A daybook style post from the whole family:
Outside my window… the pool needs more water, the grass is dead, and the pool towels need to be washed.
I am thinking…  Max is thinking about how to make an interesting Lego space ship.
I am thankful… for this chaos.
In the kitchen… someone will eventually have to load the dishwasher. Who will it be?
I am wearing… Molly is wearing one of Tessa's shirts that she has turned into a dress for the third day in a row.
I am creating… there is a lot of coloring going on here these days. The picture below was colored by Lily (left picture) and Molly (right picture) at the same time with no fighting!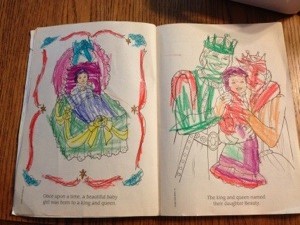 I am going… a little crazy with cabin fever. I long for the ability to take a walk after dinner, or take the kids to the park to run off some steam.
I am wondering… Tessa is wondering why her ear wasn't hurting earlier last night. (She woke up with swimmer's ear.) She is also wondering when she can have a friend over.
I am reading… The Wizard of Oz aloud to the kids. They are loving it and begging for more chapters every night. Ben just finished the Hunger Games Trilogy, and Tessa is reading Ender's Game. Have to get ready for the movies this fall!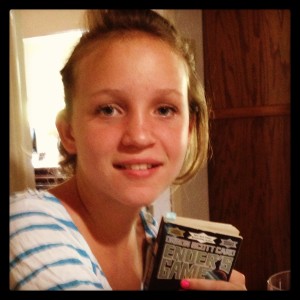 I am hoping… for a miracle with a particular school waiting list.
I am looking forward to… Jay coming home from work.
I am learning… Molly is learning more letters almost every day. She is also trying to teach Gus how to spell her name, even though he can't even say his own.
Around the house… Ben is playing a video game that the kids probably shouldn't watch. Gus is playing with Fisher Price Little People, Lily and Molly, when asked what they were doing, replied, "Um, … stuff." (It looks like it involves scissors.) Oh my, now they have a stapler too…
I am pondering… Jay is pondering the business, as we transition over to a different set up, he is under a lot of stress.
I am praying for… Posy, who is in South Africa building a home on a mission trip.
A favorite quote for today… from Ben: "Don't cry because it's over, smile because it happened." -Dr. Seuss
One of my favorite things… my morning coffee while doing my bible study. I wish I could stay in that moment all day long.
A few plans for the rest of the week: Deal with the overdue library books, take the kids swimming every day, school supply shopping, take Ben to get his driving permit, find some cheap (and cool) ways to get the kids out of the house.
A peek into my day… before breakfast: